A quick and easy recipe on mastering your sales pipeline is the Holy Grail in this field. One does not simply get it right on the first try; it requires time, effort, and learning from failure.
Nevertheless, you don't have to reinvent the wheel. We provide you with ideas on how you can streamline your workflow and get some quick wins before you move on to more in-depth tuning of your processes.
Changes in your sales pipeline
Our main ally in making improvements will be the automation of processes. As in each industry, some actions will require your reps' creativity, wit, and skills, and others will be simple, yet tedious. The goal is to reduce the second group and delegate it to tools so that they can focus on the challenges.
Automation
Even if you run some niche business, e.g. running termite control procedures and fighting with termites in Michigan, you may do with a bit of automation. Delegating some tasks on your tools rather than employees will bring you several benefits in terms of business value, team's efficiency and satisfaction, or time dedicated to tasks. In our looking for improvements that might be of use for you, we decided to focus on those actions that can be automated with a tool. They will bring you value and free your time resources.
We will cover the first three stages of sales pipeline: prospecting, qualification and consideration.
Prospecting
Sales prospecting is the first stage of the sales pipeline. You should start by defining the profile of your ideal customer and then pass to attract people that can suit these characteristics. You can rely on your previous successful transactions: their value doesn't end on selling them your product.

Getting enough leads is crucial in maintaining a quality pipeline. Depending on your conversion rate and workload, you'd need less or more new prospects. If you see yourself in need of reaching out to more people, here is a method and a tool that should bring you results.
Make the most of word of mouth
Recommendations and peer-to-peer reviews are vital in the decision-making processes in every kind of buying process. In the case of business-to-business purchasers, word-of-mouth influences 91% of buying decisions.

The first, crucial stage of growing word of mouth is the quality of your product or service. It goes without saying that you should constantly work on your product, listen to your customers, and look for improvements. Assuming your product is satisfying for your clients, they should be happy to share it with their colleagues: actually, 83% declare that will.

Your customers may need a little incentive, though. The same study led by TexasTech shows that only 29% does so – this is the so-called referral gap. To close it, a referral program can be handy.

No matter if your business is B2C or B2B, the referral programs shouldn't be underestimated. After all, as soon as you gather some clients that align with your ideal customer profile, why don't you make the most of their social network?
This is where ReferralCandy enters the stage. It is an easy-to-use tool that allows you to create a referral program and reward your referring clients automatically. It takes off of your head the tracking of your referrals, sending out links to rewards, and the overall management of the process.
Qualification
Checking how likely the prospect is to schedule a demo with you may be one of the criteria you use for qualifying. A quick way to do it is to implement your scheduling tool into this stage of the process.

When your prospects enter the scheduling page, they can view all the hours and dates you have set up as available. As soon as they settle for an hour, you'll receive an email notification, and the event will appear in your calendar. Try it out with Harmonizely.
Include the call to action and a link
This change may help you in moving faster your leads through the pipeline. When you receive a new lead, whether with a form or after downloading a lead magnet, add a scheduling link to your automated follow-up email. It will push your leads through the pipeline at the moment they are most interested in buying.

What are the benefits for your team? Your sales representatives don't have to spend time manually following up on the leads and setting up the meetings with those that are interested. It will translate into a decrease in your time-to-demo. What is more, it will set up the priority leads, making the ones that have the highest buyer intent standing out.
Ensure your page is buyer-friendly
If you are worried about your low conversion rates, eliminating technical issues will serve you well. After all, nowadays people use a wide variety of devices. Your page, although perfectly displayed on your PC, can be uncomfortable or illegible on mobile or a different browser. Let's assume you sell ceiling fans - this kind of content is often viewed on mobile, just when having a chit-chat on the go. If your site doesn't deliver, your potential customers will quickly find a replacement - in your competitors' offer.
There are two tools that can help you rule out this problem by giving you appropriate data. The first one is good old Google Analytics. As you check the user behavior on your site, you can sort the numbers by the device, operating system, language, or browser. If you notice that on one of those criteria your conversion is apparently much lower, you should work on optimizing your site.
The second tool will give you more context and understanding of your users' behavior. LiveSession allows you to replay real users' sessions, so you can observe how they interact with the page. By choosing a session from a device you noticed problems with, you can spot the pain points.
Although optimizing the website probably isn't included in your JD, equipped with that data you can work with the technical team and get rid of conversion obstacles.
Find out where your high-potential leads are
Analyze your website to look for points where your users have the highest buying intent. It is worth to include your CTAs to the scheduling page. Allowing your prospects to connect with you and make quick discovery calls can speed up your sales process.
Consideration
This is the stage where you provide your leads with all the necessary information that lets them make the right decision. At this point, you can automate your meeting scheduling and dedicate gained time to work on your lead.
Make it easy to connect
Each time-consuming and bug-prone step in your purchasing process decreases the chances of closing the deal. That is why a wise choice of your scheduling tool may be crucial in preventing the lead-loses. Let's see what your tool should have to ensure the process goes smoothly.

Take a look at its ease of implementation. Ideally, you should just put a link, without having to set up some connections between your page or calendar and your scheduling tool. Harmonizely is as simple as possible: you provide your clients with an URL, they choose the fitting hour, and you receive an email notification and see the event in your calendar. No need to hanging on calls or exchanging emails.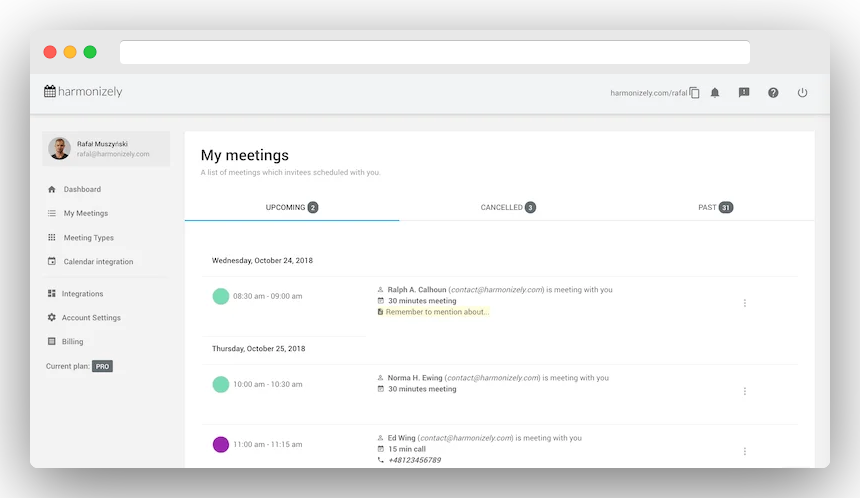 In your sales processes, flexibility is definitely an advantage. Your scheduling tool should fit your workflow. In Harmonizely, you can notice that characteristic on various points. First of all, it is easy to reschedule your meeting: both for you and your prospect. Sometimes we just have to adjust and change our plans.

The option of setting up a wide range of meeting types will help you out as well. That is how you can avoid choosing the duration and other meeting characteristics and just have some templates. Besides, adding and removing the participants is worth mentioning. That is how you can stay in total control of who is present at your meetings.

If you care about the visual side, you'll be happy to know that the paid version of Harmonizely allows using your branding. You get a high-quality solution, and your customer stays within your domain, which strengthens the trust.
Wrap up
Introducing those four tools to your sales toolbox will streamline your sales process. The work on improving your sales pipeline won't end there, yet the changes we propose will give you some quick wins.

Try out the premium version of the intuitive CalDAV scheduling tool for free on a 14-day trial.